The Chieftain's Letter
April 2005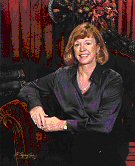 On March 28th Al Campbell piped the procession of officers elect to center stage. We were privileged to once again have Jack Hume presiding over the ceremony. Jack dedicated the evening to the remembrance of three founding ladies including his beautiful wife, Phemia. Thank you Al and Jack for all your efforts on behalf of The Heather & Thistle Society.
It is my honor to serve as Chieftain 2005-2006. I follow in The great shoes of Aaron Buchanan; however, I promise to do my utmost to ensure that on January 28, 2006 I will not make it a tradition to declare the Haggis "UNFIT" to eat! Kidding aside, the Society has truly benefited from his leadership and hard work. I am not going to say he will be sorely missed. His youth guarantees that he will be part of the Society for many years to come.
There is a good deal of comfort knowing that my officers are well acquainted with their jobs, several having served in the same capacity the previous year. The new face on board is Victor Carsrud. Believe me, at the meeting we all found out that Victor has the perfect Voice for Sergeant-At-Arms! I know he will be a great asset to the team. I thank all the Committee Chairs for their willingness to serve another year.
Our April program will be a favorite, the pipe band of St. Thomas Episcopal School. We hope everyone will attend and give their support and praise to this outstanding group of young people who once again brought home first place honors when they competed in Scotland this past summer.
Don't forget to attend the Houston Highland Games May 14th & 15th at the Houston Farm & Ranch Club near Bear Creek Park. The Heather & Thistle Society will have a space, and we welcome volunteers and visitors. HHGA will be presenting the 2005 National Scottish Fiddling Championships.
Enjoy Spring!
Cheryl Duthie May
Chieftain
Past Chieftain's Letters